In our house, and many others, it's not Thanksgiving without these 3 things: turkey, cranberry sauce, and the Macy's Thanksgiving Day Parade.
This year marks the parade's 92 inception and promises to be one of the best thanks to updated floats, some new balloons, and performances from superstars such as John Legend, Diana Ross, and everyone's favorite, the Sesame Street Gang!
If you plan to watch, from home or in-person, read on to find out everything you need to know.
Parade Time/Channel
2 channels are broadcasting the event this year: NBC and CBS.
The parade airs on NBC, which has been doing it for 66 years now, starting at 9 am EST. It will be hosted by Al Roker, Hoda Kotb, & Savannah Guthrie, with a rebroadcast for anyone who misses it at 2 pm EST.
CBS will also air "portions of the parade live" starting at 9 am EST, with 'Entertainment Tonight' hosts Kevin Frazier and Keltie Knight.
Livestream
Those who want to watch on their phone or tablets can go to nbc.com/live as well as the NBC app.
Verizon's YouTube channel will also be streaming, with a 360-degree live stream of the parade, hosted by Keith Habersberger (Buzzfeed) and Zuri Hall (E!).
New Floats
There are some old faces, new faces, and old faces with a new look this year. Tom Turkey, the parade's oldest float, is getting an updated look, though we've been assured the update is not drastic and in keeping with the classic look.
In addition there are 4 other new floats, including Elf Pets by The Elf on the Shelf and Nickelodeon's Rise of the Teenage Mutant Ninja Turtles.
Parade Route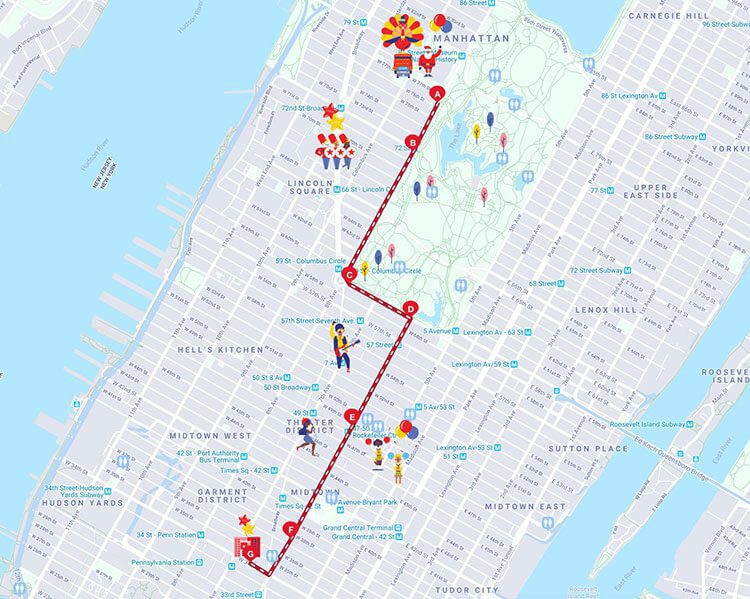 Are you planning to watch the 2018 Thanksgiving Day Parade? Share what your favorite part is with us below and be sure to share this with your family and friends.