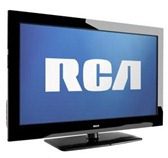 Shades of Black Friday!
Best Buy has a 50″ RCA Plasma HDTV on clearance for $350.
The HDTV on clearance is an RCA 50PA30RQ 50″ plasma HDTV with 4 HDMI inputs and built-in 16W speakers.
It's original list price was $599.99, though it was on sale for $499 at one point last year.
In Best Buy's clearance sale it is now $349.99.
As being on clearance would suggest, this HDTV is an older, discontinued, model. And being a plasma HDTV, it's a little heavier than LCD models of a similar size. This 50 incher weighs in at 72 pounds. However, many viewers prefer the picture quality of plasma TVs.
There aren't a whole lot of reviews for this model, just two at Best Buy. Both reviewers rated it 4 out of 5 stars.
Supplies are limited. Best Buy has an availability lookup to see if the HDTV is still available at a local store near you.
So how good of a deal is this?
The next cheapest 50 inch HDTV on Best Buy's website is a refurbished Sanyo 50 inch LDC HDTV for $550.
Checking over at Amazon, the lowest priced 50 inch HDTV is a Hiteker 50 inch HDTV for $476.87.
Will you be heading to Best Buy to pick one up? Let us know in the comments section below!