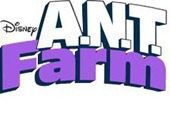 The Disney Channel's A.N.T Farm is set to return to Disney prime time on Friday, June 1, at 8pm. The show was ranked the #1 TV show amongst children 6 to 11, and #2 for the 'tweens' (9 to 14 year olds), last year.
In the show, A.N.T. stands for Advanced Natural Talents, the gifted program at the fictional Webster High School. It follows the adventures of a quirky group of gifted kids.
The show stars China Anne McClain as Chyna Parks in the lead role, and includes Sierra McCormick, Jake Short, and Carlon Jeffery. Stefanie Scott plays the lead 'villain', Lexi Reed.
Common Sense Media rates the show quality as 3 out of 5 stars, and says in their review that:
"…there are positive messages here about self-confidence and sticking to personal values. An innocent crush gives way to some giddy flirting, and there's enough potty humor (farting and the like) to fulfill kids' need for this guilty pleasure, but other than that, parents can rest assured that these characters face realistic consequences for misbehavior and find strength in knowing that standing up for themselves can keep would-be bullies at bay."