Good Night Angels… Good Night Charlie.
Charlie Angels has become the first of ABC's new shows to get the ax this season. The network announced the cancellation on Friday, amid poor ratings and bad reviews.
The show was a reboot of the 1970's Charlie's Angels. The original series was launched in 1976 and was an immediate hit. During the first of its five season run, it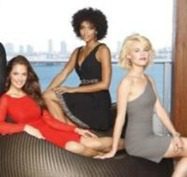 was rated #5 for the number of viewers per episode. The actresses playing the original Angels, Kate Jackson, Farrah Fawcett-Majors, and Jaclyn Smith, became stars overnight. The show ran for five years. During the final season the show scrambled for viewers and timeslots and was then canceled.
The reboot of Charlie's Angels did not fare nearly as well. Out of eight episodes that have been shot, the cancellation came after only four were broadcast. The remaining four episodes are still on the schedule and are expected to be be shown.
The 2011 version of Charlie's Angels starred Annie Ilonzeh, Minka Kelly, and Rachael Taylor as the Angels. Ramon Rodriguez played the part of John Bosley, and Victor Garber was the voice of Charlie.