Starting today, Acer Iconia Tabs are being updated to Android 4, aka 'Ice Cream Sandwich'.
According to Acer, the recently launched Acer Iconia Tab A200 will be the first to get the update. The update began being pushed to the 10.1 inch tablet this morning and will continue throughout the week.
Unfortunately, owners of the 7 inch Acer Iconia Tab A100, and the 10 inch Acer Iconia Tab A500, will have to wait a bit longer. The updates for these tablets won't be coming along until April.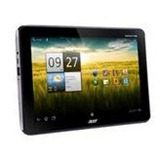 Acer says the new features and improvements included in Android 4 will be noticeable right away. The web browser will be faster. There will be better app and folder management, enhanced individual customization options, and better navigation.
In a statement released to the media, Acer said there were several features and enhancements that will be unique to the Android 4 update for Acer tablets:
The new update of Android 4.0 also includes several new features that are unique to Acer tablets. The updated tablets will now feature the highly customizable Acer Ring, making it incredibly natural and easy to get instant access to favorite apps and features. The Acer Ring can be launched with a single touch and lets customers have quick and easy access to apps, surf the web, capture screen images, post photos and status updates to their social networks, and more.

Also unique to the Acer Iconia Tab line with the Android 4.0 update, customers will be able to access their favorite apps directly even when the screen is locked and will enjoy an improved weather widget.
Other features that will come with the update include an improved camera zoom, improved image stabilization, and the ability to take snapshots at the same time a video is being recorded.
When the update hits an individual tablet, the user will be notified with an update notification prompt.