It may well get lost in all the tablet related news that will be coming out of the Consumer Electronics Show (CES) next week, but yesterday Acer announced that their 10.1 inch Iconia Tab A200 will be available in stores on January 15.
The new tablet is being promoted as a multimedia entertainment tablet for viewing movies, playing games, reading e-books, listening to music, social networking and more.
While it will be launched running Android 3.2 (Honeycomb), Acer is telling us that there will be a free upgrade to Android 4.0 (Ice Cream Sandwich) for the Iconia Tab A200 in February.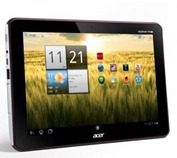 The A200 has a 10.1-inch multi-touch, 1280 x 800 display. It's powered by a NVIDIA® Tegra 2 dual-core mobile processor, has 1GB of RAM, a six-axis motion sensing gyroscope, and it supports Wi-Fi, Bluetooth and GPS.
The tablet will have several ports – a MicroSD slot, a micro-USB port, and a USB 2.0 port. It will also include a 2MP front facing camera. Acer said the device has 8 hours of battery life. It will be available in two versions, one with 8GB of storage, the other with 16GB.
Price wise, the 8GB version will have an MSRP of $329.99, the 16GB version is just $20 more at $349.99. That puts it into a growing list of full featured Android tablets that will be priced in between the Kindle Fire and the iPad 2. There is, however, a trickle of reports coming in that indicate the iPad 3 may be launched in March, and along that it's rumored that the price of the iPad 2 may drop by $100… or perhaps even more. But that is all just speculation at this point.
Acer said the Iconia Tab A200 will be available at major retailers on January 15, but did not provide any pre-order information.