Looks like the airline industry is moving prices up by about $6 to $10 per round trip as of today.
Several airline companies have tried to raise prices this year. Delta in January, Southwest and United in February. On two of those occasions other airlines followed suit and raised their prices as well. On two other occasions, other airlines did not raise their prices and the airlines that initiated the increases dropped their fares back down.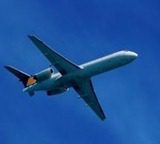 This third increase, in a span of just three months, was led by Southwest and JetBlue, which announced a price increase this morning. US Airways, American, Delta, United, Virgin America and Frontier all quickly followed suit – so it looks like this one will stick.
According to FareCompare, which has been tracking the progress of this and other attempted price increases and posting them on their site, the hikes in airfares are due to the rising cost of fuel. They point out that fares are rather chaotic at this time, because airlines are attempting to raise their base fares while at the same time offering weekly discounts to fill empty seats on slow travel days.