Amazon announced today that they have launched a new "Sports Collectibles & Memorabilia" store with over 2 million sports related collectibles.
"Serious collectors and sports fans alike will discover a broad selection from official licensees of the National Football League, Major League Baseball, National Basketball Association, National Hockey League and International Federation of Association Football," Amazon said in a statement.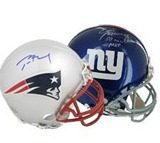 The 'store' itself has a very familiar feel to anyone who has shopped on Amazon before. Though Amazon refers to it as a new 'store', it's really more of an Amazon sub-section than a store that's independent from the rest of Amazon. Amazon did not go the route of a totally different site, like they did with their MyHabit.com clothing store. Departments within the "Sports Collectables & Memorabilia" section include major sports: baseball, basketball, football, and hockey. There's also departments for autographed items, game used collectibles, trading cards, a section for display cases and protective storage supplies, and a fan shop. Each department drills down into additional sub-sections.
Of course, authenticity is going to be a big deal here. Amazon says they will address that through authentication service providers such as Professional Sports Authenticator (PSA), James Spence Authentication (JSA) and Beckett Grading Services (BGS), which will provide source authentication and condition ratings. In addition, sellers will be required to be preapproved Amazon Pro Merchants and the Amazon A-to-z Guarantee applies to sports memorabilia.
Amazon's "Sports Collectables & Memorabilia" store is accessible through http://www.amazon.com/sportscollectibles.
NTCJUZCKABFD