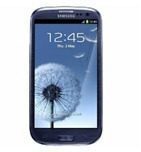 Amazon is now taking pre-orders from US shoppers for the (very) highly anticipated Samsung Galaxy S III.
There is a small catch to mention… the smartphone available for pre-ordering is the international version. Its unlocked – not set to a specific carrier, and not tied to a carrier contract. That means it is not subsidized. Shoppers wanting to take advantage of this pre-order deal will have to shell out the full price for the phone: $799.99.
This Samsung Galaxy S III deal is actually being offered through Amazon by a third party retailer, BLUTEKUSA. The retailer looks as though they have sold quite a few products through Amazon. They have a rating of 4.7 (out of 5) stars over the past 12 months, with a total count of 13,279 ratings to date. The phone is available in two colors, Pebble Blue and Marble White. They state that the release date for the phone is June 1, which is a few days after the Samsung Galaxy S III is set to launch in Europe.
The price is not the only drawback for US shoppers. Daniel Ionescu, over at PCWorld, points out that while the international version of the phone can be used here, it's not fully compatible with any of the major US carriers.
So when will a fully compatible model launch on US carriers?
We have heard rumors of a June launch, and rumors of a fall launch… but nothing really solid has been reported. There's been a stunning lack of leaks regarding the subject. However, Samsung has provided a form to sign up for the latest news on the Galaxy S III directly from them. One would expect that would include news of the US launch. The sign up form is here, though when the announcement comes, we will also report on it here at CP.