More than 110 planes have been damaged by hail at Dallas-Fort Worth International Airport as strong storms and tornadoes battered the region on Tuesday.
American Airlines and it's regional carrier, American Eagle, have cancelled more than 1,900 flights so far, affecting nearly all of their departures over the last few days. 101 planes were pulled out of service for inspections. So far, 46 of those have been returned to duty.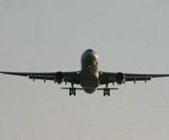 When will flights in and out of Dallas-Fort Worth International return to normal? "It will be several more days. It really depends on what the damage is to the aircraft, how much repair has to be done," Andrea Huguely, a spokeswoman for American Airlines, told Bloomberg.
The Federal Aviation Administration is reporting that flight delays out of Dallas-Fort Worth International averaged about three hours yesterday afternoon, but the average was getting shorter as the day progressed.