A growing number of consumers are using their tablets to display content on their televisions, according to a new report from Sarah Rotman Epps and Annie Corbett over at Forrester Research.
They say that 18% of tablet owners report that they connect their tablets to their TV through an HDMI or VGA cable. The ability to connect in this manner is not available on all tablets, and the authors of the study provide the Kindle Fire and Nook Tablet as examples of tablets that can't.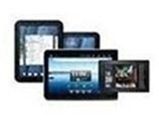 A much higher percentage (85%) use their tablets at the same time they are watching TV. The authors also point out that 30% of tablet time is spent watching TV content, according to a survey from Nielsen.
The Forrester researchers implied that tablets may spell an end to small TVs. 32% of tablet owners said they would not consider buying a TV of 24 inches or less in the future. Why would they? They have a tablet to serve as a small TV. The researchers also noted that people are using tablets as personal TVs in a variety of new locations, such as kitchens, bathrooms and airports.
We're definitely seeing a paradigm shift when it comes to TV watching. Here at CP we've been reporting on the growing market for streaming content, smaller and smaller tablets, bigger and bigger tablets, and… just yesterday… the availability (in China, at least) of Android TVs. It certainly appears that tablets, computers, TVs, streaming and traditionally broadcasting are all on a merging course.