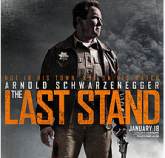 Fans will be pleased to see Arnold Schwarzenegger return to what he does best in a western themed action flick titled  'The Last Stand' set for release on January 18, 2013. The Last Stand will be directed by South Korean filmmaker Kim Ji-woon (I Saw the Devil, The Good, the Bad, the Weird, A Tale Of Two Sisters). This will be Arnold's first solo film since the 2003 released Terminator 3.
According to Deadline, Liam Neeson had been attached at one point, but he kept pushing it back as his schedule grew more crowded. Ultimately, Lionsgate moved on. Arnold then fell in love with the movie several months ago, and Lionsgate spent the ensuing time snagging a director. The studio had already pre-sold the $30M-budgeted movie overseas with Liam so will tell its partners about the switch to Arnold shortly. Schwarzenegger briefly teamed up with Marvel Comics legend Stan Lee to create a toon superhero based on his nickname while in office, The Governator. But that project got put on hold.
The Last Stand has Arnold playing an aging sheriff of a small town and is forced into critical circumstances when he has to face off with a drug cartel. Here the former California Governor will be portraying a character similar to his age and will be trying to have his comeback on course with a hardcore action flick.
Along with Arnold it will also be a test for the Korean director, as this will be his first major attempt in Hollywood. He has stated regarding his plan of action as,
"My concept for 'The Last Stand' is that it's kind of a combination of 'Die Hard' and 'High Noon' where [the latter] was about protecting something very important that needs to be protected, while 'Die Hard' is a very drawn-out, long process that almost kills someone in the process… 'The Last Stand' would be where someone puts their lives on the line to protect something that's very important and it will be a bit more optimistic film in that regard."
Check out the trailer below and let us know what you think of "the Arnold's" comeback!
httpvh://www.youtube.com/watch?v=0yMc9h3h9bs