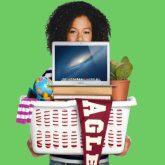 Apple just unveiled the annual discount for the Back-to-School shopping period. All students are offered the possibility of receiving a $100 gift card.
All students that are interested in the offer can take advantage of it until September 21. The gift card can be used in the Mac App store, the App Store, the iBookstore or the iTunes Store and will be issued for every single Mac unit that qualifies for the promotion.
There is also a $50 gift card that is offered for those that buy a brand new iPad. The same use policy applies.
Interested shoppers can find the full list of units that qualify for the promotion on the Back-To-School Apple Store Promotion Page.
Apple said that in order to qualify for this offer, the person making the purchase needs to be:
a college student
a parent of a college student
faculty member
staff member from any school
Apple has also posted a special FAQ section on their site with additional information about qualifying for the Back-To-School promotion.
At the same time, a $50 discount is available for people that would buy an iPad that is refurbished.