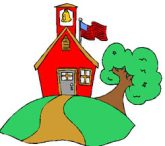 It's that time of year again…Back-to-School Shopping!  Computers, clothes, shoes, and school supplies are the most sought after items during these last weeks of summer.  This yearly ritual generates a frenzy of sales, as major retailers compete for your hard earned cash.  Stay ahead of the game with a little pre-planning, to make your dollars stretch further.
First, take a thorough inventory of what you have on hand that can easily transition into the new school year.  For example, tank tops and short sleeved shirts can have an extended life by pairing them with a long sleeved shirt worn underneath.  Skirts and skorts look adorable when worn with trendy tights or knee-high socks.   You might want to consider asking friends, co-workers, or church members if they would like to participate in a clothing swap.  Such fun-filled gatherings can net your children perfectly good clothing for free!  Also, try to keep in mind that not all clothing items need to be purchased right away-lighter weight jackets and sweaters that you have on hand, will often be sufficient for the first few months of school, before the weather turns cooler.
Second, spend a little time online comparing sales and online coupons.  While it's tempting to just shop where you normally would, a quick visit to another retailer's online site may surprise you with outstanding deals.   Take advantage of the upcoming Tax-Free weekend, the first weekend in August for the states that participate.  There may be restrictions on which back-to-school items qualify, so be sure to read the fine print.   Don't forget to ask if retailers price match.   Many stores do, and may even offer up to an additional 10% off as a thank you for your patronage-Sears will and this could really pay off for the big ticket items, like laptops and other electronics.
Finally, stay focused on the task at hand.  While purchasing back-to-school items may be your mission, retailers will try to sway you with summer clearance sales, often up to 90% off their original prices.  Pre-buying for next year is a great way to save money, but not if it will compromise what you need to buy now.
Hopefully, with just a little effort and forethought, your children will be beaming on their first day of school and your wallet will be a little bit fuller.