The 'on-time flights' report is in for the month of January and the numbers are positive.
Overall, a whopping 83.7% of all flights on major carriers in the US were on time in January. That's the highest January on-time record since 1995. Last January it was 76.3%, according to the US Department of Transportation.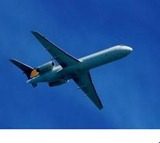 The airline with the best on-time record? Hawaiian Airlines, with an 93.14% on time report.
The worst? Discount carrier Frontier Airlines. According to ABC News, a spokesperson for Frontier, Lindsey Carpenter, said much of that had to do with weather at their Denver hub. ABC News points out that other airlines were also affected by that weather, but Frontier came out with the worst of the on-time report.
According to the US DOT's report, airlines reported that approximately 5% of their flights were delayed due to aviation system delays in January. Another (approximately) 5% were due to late arriving aircraft. About 4% were related to maintenance or staffing issues.
The US DOT also reported that the mishandling of bags was down 23% during January. Only three bags were mishandled for every thousand passengers. The airlines also reported that two pets died related to flights during January.