Research In Motion (RIM) may be preparing to reveal a BlackBerry PlayBook Mini Keyboard for use with their PlayBook tablet.
N4BB.com says they "stumbled on" a spec sheet for the new mini keyboard, and another site, TheSource.ca, is taking pre-orders for it. TheSource lists an expected shipping date of March 23. The price on their site is $99 before April 11, $119.99 afterwards.
While RIM has a variety of BlackBerry PlayBook accessories listed on their site, there's no mention of it there, nor in any of their recent press announcements.
An official keyboard for the tablet is long overdue. RIM launched the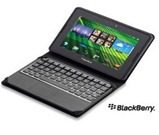 PlayBook almost a year ago. Sales were sluggish, as some of the expected features were not present. An update to add those features was promised, but not provided until recently. In the meantime, RIM struggled to keep the tablet relevant in a fast changing marketplace. The price was dropped by $300. After a year-long struggle on many fronts, RIM replaced their two co-CEOs with a new one, Thorsten Heins, in January.
RIM depends heavily on business users, and if the PlayBook is to be a business device, having a physical keyboard will definitely be a plus.
Looking at the sales literature, it appears the keyboard will come with or be part of a case, which will also house the tablet. The top portion will act as a stand supporting the tablet. Put together, it looks like a mini laptop. The keyboard is said to include an integrated touchpad.
We asked late last month if RIM could get a Mulligan on their BlackBerry PlayBook.
Now that the tablet has been updated to BlackBerry 2.0, and (if) there's an official mini keyboard, and the price is much lower than what they started with – it practically looks like a whole new tablet. Perhaps they will get their Mulligan and be able to make the PlayBook a successful product. It would be an interesting counterpoint to HP with their TouchPad tablet.  HP quickly gave up and just about quit the business when their tablet got a slow start out of the gate.