More than 9 million people are dying of starvation in East Africa and 28 years after the initial release a Bob Marley song is being used to help bring awareness to the crisis.
The 1973 Bob Marley song 'High Tide or Low Tide' is paired with captivating images of those starving in the East Africa region on a new video that is going viral thanks to the help of top name celebrities. The video was released Tuesday by the Bob Marley estate, Simon Fuller and Island Records founder Chris Blackwell and has found its way across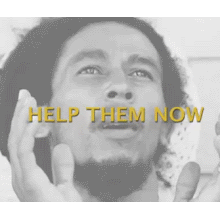 social media outlets throughout the day. The promotional video is tied in with the Save the Children foundation in the hopes of raising awareness and donations for those adults, babies and children that are dying of starvation in Africa.
Over 150 of the biggest names have put forth effort to join the cause with Save the Children in the hopes that their fans will contribute as well. Among the celebrities that have joined the fight are Lady Gaga, Eminem, Justin Bieber, Carrie Underwood, Ryan Seacrest, Rihanna, Bruno Mars and U2. Fans of the celebrities on Facebook and Twitter were given an opportunity to see the video and hear the story behind it. These stars are working hard to promote the message of the High Tide or Low Tide video and Save the Children

.