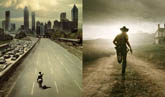 Hit post-zombie apocalypse survival series The Walking Dead returns for Season 3 on Sunday, Oct. 14, and AMC wants to make sure its viewers are up to speed on the show before they watch it.
Starting Saturday, Oct. 13, at 10AM/9c, AMC will begin a two-day The Walking Dead marathon, airing all six episodes of Season 1 back-to-back.
This will be immediately followed by the entire second season, which will repeat through the night and on into Sunday, leading into "Seed," The Walking Dead Season 3 premiere, which will air at 9PM/8c.
Based on the The Walking Dead graphic novel series by Robert Kirkman, The Walking Dead has been a recent hit on AMC. The series follows Rick Grimes (Andrew Lincoln, Love Actually) and a cluster of zombie apocalypse survivors as they try to find safety in a world full of danger, both living and no-longer-dead.
While the TV series has played it fast and loose with the original material by introducing new characters and plot points not found in the graphic novels, Season 3 promises to bring to life fan-favorite character Michonne (Danai Gurira, Treme) and deadly antagonist The Governor (David Morrissey, The Other Boleyn Girl).
The full The Walking Dead marathon schedule can be found here. A recent trailer for Season 3 can be found below.
httpvh://youtu.be/Bks1yPkB4DY
Will you be tuning in for the two-day zombie-filled marathon?