The Land of Nod is recalling its Blake Bed Frames, according to a statement issued by the US Consumer Product Safety Commission (CPSC) today.
According to the statement, the company has received one report of a child becoming entrapped in the gap between the footboard's top rail and the bed mattress. The child's parents were able to free her without injury.
The beds were sold at The Land of Nod stores in Illinois and Washington, through the company's website, http://www.landofnod.com, and through their catalog.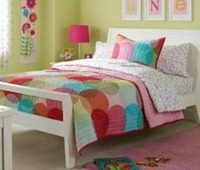 According to the company, the beds are being recalled "due to the open design of the footboard," which poses an entrapment hazard. The beds were sold between September 2009 and October 2011.
The company posted at note on their website saying "We sincerely regret any inconvenience this recall may cause, but your family's safety is our primary concern. Thank you for your cooperation and understanding."
The Land Of Nod identifies the following beds, with SKU and item numbers, as being involved in the recall:
– The Twin White Blake Bed, SKU 507-078, item # 5003192AWH
– The Twin Blonde Blake Bed, SKU 507-001, item # 5003192ABD
– The Full White Blake Bed, SKU 507-175, item # 5003192BWH
– The Twin White Blake Bed, SKU 507-124, item # 5003192BBD
The company is asking consumers to stop using the Blake Bed immediately. They also request that consumers contact them for a replacement footboard with a closed gap design. The contact number posted on their website is 800–933–9904, and they also provide the e-mail address recall@landofnod.com.