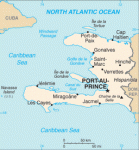 The deaths resulting from the Cholera outbreak in Haiti have reached 292 with 4,147 cases of the infectious disease confirmed in the country.
Nigel Fisher, United Nations humanitarian coordinator in Haiti has labeled the outbreak as an 'extremely serious situation' and is quite worried about the potential for the disease to spread and infect tens of thousands of people. He also expressed that the country should prepare for a bigger outbreak.
The Pan American Health Organization has expressed concerns similar to Fisher's regarding the potential for the disease to spread to the Dominican Republic.
CARE medical teams are in the affected areas and working non-stop to help the victims. The organization is trying to treat those affected while containing the disease and preventing further infection. They also have members in Port-au-Prince offering hygiene and water purification tablets to help prevent the capital from falling victim.