A new tax on Christmas trees has been called off by the Obama administration after being ridiculed.
The 15 cents per Christmas tree tax was to be applied to producers and importers who sold or imported more than 500 Christmas trees a year. The new tax was published in the Federal Register yesterday and was to go into effect today. The funds were to go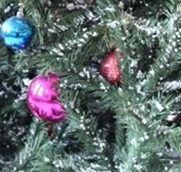 to a new board that had been created to promote the live/fresh Christmas tree industry.
The 15 cent tax quickly became the subject of ridicule by critics, some who said the Obama administration was trying to tax Christmas, others said it was a 'Grinch' move. Sen. Jim DeMint, R-S.C., called the imposition of new taxes on Christmas trees a "ludicrous political misstep," and vowed to file an amendment to repeal it.
Apparently feeling the heat, White House spokesman Matt Lehrich said the administration was putting a stop to the tax.
This afternoon he told Fox News "I can tell you unequivocally that the Obama administration is not taxing Christmas trees. What's being talked about here is an industry group deciding to impose fees on itself to fund a promotional campaign, similar to how the dairy producers have created the 'Got Milk?' campaign," he said. "That said, USDA is going to delay implementation and revisit this action."
He did not explain why, if it was an industry group imposing fees on itself, it requires a government imposed tax. However, about 20 other industries have worked through the US Department of Agriculture (USDA) to develop similar programs, such as the "Got Milk?" and "Pork: the Other White Meat" campaigns, according to the USDA. So while the Christmas tree tax may be easy to ridicule, it may not be unique.