Churchill Downs, home of the Kentucky Derby, has made changes to their parking and transportation services this year.
Last year, the Derby had a record breaking attendance and parking was a real hassle.
As of this morning, there is already a light rain falling on the track, and more is expected throughout the day. How that's going to affect attendance is anyone's guess at this point.
Many headed to the track today have come from out of town though, so no doubt most will show up regardless of the miserable weather. But the surge of the crowd may be later than usual.
We should note here that Churchill Downs does not allow umbrellas in the stands.
As in previous years, parking at Churchill Downs for the Kentucky Derby is sold in advance, and it is already sold out.
However, there is parking available at remote lots on race day. At
Papa John's Cardinal Stadium parking costs $15. At the
Kentucky Fair and Exposition Center, parking is $8.
Both of those lots are within walking distance to Churchill Downs, however a shuttle is available from them and from downtown Louisville. Round trip tickets on the Miller Transportation shuttles are $15 from/to Papa John's Cardinal Stadium and the Kentucky Fair and Exposition Center. From/to downtown Louisville is $20.
The Derby's parking and transportation site includes a warning: "lines for buses after the races can be long."

They provide pretty much the same warning when it comes to the lines for taxis after the race.
Churchhill Downs has a new bus depot this year, located just outside of Gate 1.
There's also a new taxi depot. It's next to the Wagner's Pharmacy building at 4th and Central. It's close to the infield entrance at Gate 3,  about a five minute walk from Gates 1 and 17.
The pedestrian walkway at Churchill Downs has also been changed, providing a wider area for crowds.
A map with locations of the new facilities is below.
Are you at the Kentucky Derby right now?
Share your live parking report in the comments section!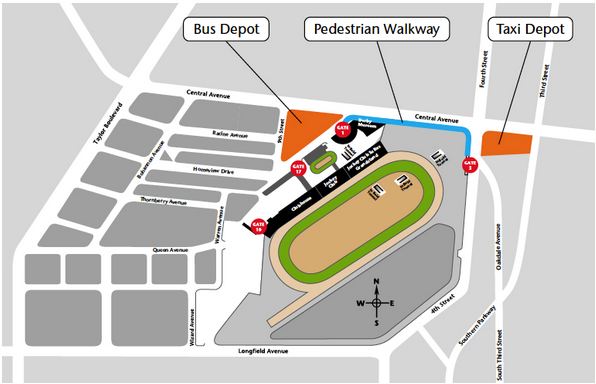 photo credit: kentuckyderby.com