Cloudberry Online Backup, from the folks at Cloudberry Lab, is designed, in their words, to "make your disaster recovery plan simple, reliable, and affordable." So we put it to the test… on me! A simple, non-expert, home user that desperately needed a back up plan.
The importance of back ups was recently driven home to me by my 8 year old daughter. She asked me a simple, but thought provoking question. "What do you LOVE?" she said, "Not including people and pets. Just things. What things do you love?"
Is it a sign of maturity (oh-no!) that I couldn't think of a darn thing? There are plenty of 'objects' I like and enjoy. My daughter 'loves' everything she owns. Toys, shoes, crayons… she's heartbroken if anything breaks, is lost, or even outgrown.
But I couldn't think of any non-living "thing" that I loved.
So in my mind, I tackled the question from a different perspective. If my house burned down, or there was some other disaster that destroyed everything I owned – what would I be most upset about losing?
The answer was easy: I've got 8 years of digital photographs on my hard drives. I've backed up the pictures to my other home computer, in case a hard drive failed. But what if both my computers were destroyed or lost in some mishap.
I answered my daughter… "The one 'thing' I would miss most if I lost it, is all those pictures I have of you growing up".
I realized right then that I needed a better backup plan.
I've tried different backup programs over the last few years. Acronis was quite complex and I couldn't quite tell if it was really working. I tried Paragon, Easeus, Comodo Time Machine and another similar 'time machine' type program whose name escapes me. I'm not a back up expert – so maybe all these are great programs – but for me personally… there were always problems or inconveniences. I mostly given up on having a good backup.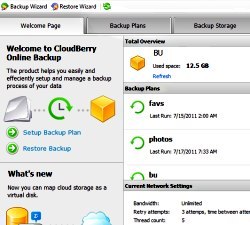 Then along comes Cloudberry Online Backup. As a writer for Sure Start News, I was offered an opportunity to try it out. It is designed to copy and upload files to a remote location. Primarily, Amazon's S3 cloud storage, though other online storage locations are also supported, including Seeweb, Azure, Google Storage, Host Europe and others.
Amazon was easy to sign up for, a link is provided in the setup instructions. Amazon's storage space is extremely cheap.
After activating my Amazon S3 account, I set to work on my backup plans. Using Cloudberry's backup wizard, I set up plans to backup my photos (of course), my email, and my bookmarks. It took all of about 15 minutes and was very straight forward. No confusing 'techie' decisions to make. So far, so good.
Then I activated each backup plan. The email files uploaded to Amazon, no trouble. The bookmark file uploaded, no trouble.
Then came the big one… the photos. 12Gb worth! This one I actually had to restart twice when it 'failed'. That worried me a bit. But I found the failure was not a complete failure. It had uploaded a good chunk of the photos before it stopped.
In the 'history', I found an error related to the clocks (mine and Amazon's) being "not Synchronized". The Cloudberry help files indicate this is a common problem related to the clock on my computer being inaccurate, and the way that Amazon responds to that. However, my computer is synced with time.windows.com… and it agrees with the clock on my cable box… so I think it's pretty accurate. Could the time issue be related to the size of the upload?
So I restarted the upload. Sweet – it did not start the entire download from the beginning, just resumed where it had left off. I did have to restart it one more time for the same reason.
After the initial upload though, the Cloudberry Backup program has been rolling along without a hitch. That's just what I have wanted for a long time… a set it and forget about it (because I WILL forget about it) backup plan. The program needs to do all the work, and in this case, it is. The uploads now are incremental, just replacing what is new or changed, so they are not as large as the initial upload. There have not been any more failures.
I have it set to backup my files every few nights, in the middle of the night. My computer is sometimes in hibernation mode by that time, and Cloudberry does not wake it from hibernation to run the back up. Cloudberry reported to us that a 'wake up' feature is being worked on for a future version. For now, if my scheduled backup time is missed because the computer was asleep, the backup starts the next morning when I wake the computer to do some work myself. I expected this to be a problem. That it would slow my computer down when I was trying to work. But it hasn't. I didn't even notice the backups were running until I received a confirmation that it had just completed successfully.
Cloudberry Online Backup let me know that a backup had just finished by sending me an email confirmation (an optional setting). I can also open the program and view the directory tree and files that are stored on Amazon's server. It's all there and up to date, just as it should be.
Of course, no backup review would be complete without actually restoring some deleted files. So I moved some files and fired up the Cloudberry Backup restore wizard. The files to restore were selected, and in less than a minute, they were completely restored on my computer with no problems.
I am skipping over quite a few features that the program includes. It has an api and a command line interface, a way to mount Amazon storage as a drive, and other techie stuff… but those are not what this particular review is about.
This review is about the program's usefulness as a basic, at home, consumer friendly, reliable, easy to set up and maintain, backup program – and in the view of this at-home user, it gets an 'A'.
Price wise, Cloudberry Online Backup is inexpensive, $29.99, and so is the online storage. Amazon currently provides 5Gb of storage to new customers for free for a year, and Cloudberry offers a free 20 day trial of the program at their site, CloudBerryLab.com.