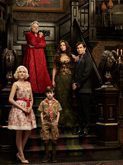 Herman, Eddie, and the rest of The Munsters are making their TV-comeback in NBC's hour-long drama series Mockingbird Lane.
Based on the family-friendly comedic series from the 1960's, Mockingbird Lane reimagines the Munster family for the modern era with what NBC calls a "darker edge and tone."
The cast includes The Defenders' Jerry O'Connell as Herman Munster, Arrested Development's Portia De Rossi as his vampiric wife Lily, and Mason Cook as their son Eddie. Eddie Izzard will be playing Grandpa Dracula, with Charity Wakefield rounding out the cast as all-too-human Marilyn.
Jennifer Salke, president of NBC Entertainment, says Mockingbird Lane "will definitely blow out conventional wisdom and create its own legacy."
In Mockingbird Lane, young Eddie Munster learns that, for a Munster, puberty is more than just that awkward time between childhood and adulthood – it's also when a Munster becomes a monster (a werewolf, in Eddie's case).
Lily and Herman try to help their son cope with his sudden onset of lycanthrophy as they try to settle into their new Victorian home at 1313 Mockingbird Lane.  At the same time, Herman's makeshift heart starts to give out and Grandpa Dracula tries to find him a replacement.
The show is produced by dark comedy/drama vet Bryan Fuller (Pushing Daisies, Dead Like Me) and director Bryan Singer (X-Men, House). Singer also directed the pilot.
Mockingbird Lane premieres on Oct. 26 at 8pm ET, followed by a new episode of Grimm. A preview of Mockingbird Lane can be found below.
httpvh://youtu.be/gDmHcG8vq6Q