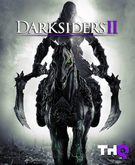 THQ has confirmed that anticipated action adventure game Darksiders II will be coming to the Wii U as a launch title.
Where gamers took control of War, one of the four horsemen of the Apocalypse, in the original game, Darksiders II gives gamers a chance to play as War's brother, Death, as he traverses various realms to prove War's innocence in the premature start of the Apocalypse, which led to the beginning of Darksiders.
Darksiders II on the Wii U will include additional content not found on its Playstation 3 and Xbox 360 counterparts. The first DLC expansion, Argul's Tomb, will be available on disc. THQ also states that "all pre-order bonuses from other editions" will also be available, "adding around five hours of playable content and new legendary weapons and armor."
The biggest difference between Darksiders II on the Wii U and any other platform is how the game is played. On the Wii U, the game takes advantage of the console's unique Wii U GamePad, allowing players to use the touch screen to look at maps and objectives, and use Death's inventory and special abilities.
The Wii U release will also add an extra layer of strategy to combat using the Wii U's gyro functionality. The gyro sensor will be used for evading enemies, manipulating objects, and to steer Death as he rides Denial, his steed.
Darksiders II will be available for the Wii U at the console's launch on November 18.