Disney theme parks introduced a FastPass line skipping system back in 1999.
Guests at the parks can enter their park ticket into an ATM-like machine near the ride or attraction, and be issued a FastPass ticket, which basically acts like a reservation system. FastPass holders can visit other attractions at the park, then come back during the hour long time frame indicated on the pass and, basically, skip to the front of the line. Guests can get only one FastPass at a time, in most cases.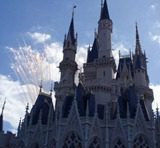 It didn't take long for some guests at Disney Parks to notice that Disney did not enforce the hour-long time frame requirement very strictly. Users would come back after the end of the time frame and still be allowed into the priority line – ahead of guests that didn't have FastPasses – even though their FastPass had expired.
But that's going to change, according to Inside the Magic. They report that as of today, Disney is enforcing the one-hour time frame on FastPass tickets. They say that several new measures are alerting guests that they can no longer use the FastPass after the time frame has expired. There are now reminder signs posted at FastPass stations, a reminder on the daily time and information guide, and a note on the FastPass ticket itself, saying "Not able to accommodate late arrivals." Will there be exceptions? Yes, according to Disney spokesman Rick Sylvain, who told the Atlanta Journal Constitution that "If a guest experiences extenuating circumstances that affect their ability to return, we will deal with that on a case-by-case basis."