Today Disney World announced that they will officially open their new role-playing adventure "Sorcerers of the Magic Kingdom" on Wednesday, February 22.
"Sorcerers" will be a very different experience from most other activities at Disney World. It's a walking adventure. Players will be recruited by Merlin the Magician at Main Street, USA (or in Liberty Square) to help defeat Hades' plan to take over the Magic Kingdom. Once they're signed up, they become the Sorcerer's apprentices. There are eight initial missions which they can participate in. A special ninth mission is available once those are completed.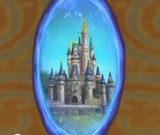 During the role-playing, the Sorcerer's apprentices will be pitted against Disney villains. In a scavenger type hunt, the apprentices will follow maps and clues to visit 'mystical portals' that are located throughout the park. The portals will show the apprentice whatever evil may be lurking nearby.
Once at the portal, the apprentice can cast a magical spell card which can cause a variety of things to happen involving different Disney characters. There are over 70 magical spell cards that can be collected in all.
Each mission is designed to be about 30 minutes long. Apprentices will be able to play one or all. There is no extra cost to playing the game, it's all included in the regular Disney World Admission.
Disney also released a video about the game when they announced the opening date, it's below: