Disney World's Magic Kingdom in Orlando, Florida – a classic among theme parks.
Taking my seven-year-old daughter there brings back lots of memories. Going under the arch as you drive up to the park, riding the tram to the entrance, and the eager anticipation as you wait for the monorail for the ride into the Magic Kingdom. No one does Disney like Disney.
Surprisingly, one of my daughter's favorite things there was meeting a character. It wasn't the rides, which is what I always looked forward to when I was a kid. It was that 2 minute meeting with Ariel that made the trip worthwhile for her. She may have enjoyed meeting other characters, however, we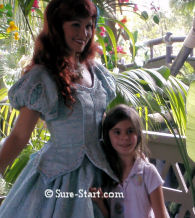 discovered a surprising lack of information on when and where characters would be. I first looked on Disney's website before we left for the park. Nothing on character schedules there. So upon our arrival at the Magic Kingdom, one of the first things I looked for was a character scheduled. And I found one. It basically said that characters are in various places at various times throughout the day. No specifics. I don't even know why they called it a schedule. This seems like something Disney could easily fix.
What's not so easy to fix is that Disney World's Magic Kingdom is aging. It's noticeable right from the start when you get on the tram. The driver makes an announcement. It's so garbled, over what sounds like incredibly cheap speakers, that you can't understand most of what he is saying. That's not very Disney, and is not a good first impression. You expect things to be clear and crisp at Disney World. It gave you the feeling that this wasn't as good as it should be, from the very start.
Walking the grounds of Disney World's Magic Kingdom is wonderful. The streets, the buildings, the atmosphere, the street singers and dancers, are all just the way I remember them when I walked down them as a child.
And the rides are just as I remember them too. Which, unfortunately makes them outdated. With so many exciting new theme parks in Orlando, the Magic Kingdom's actual attractions feel a bit stale.
Take for example the Country Bear Jamboree, which was a particularly glaring example. It's just the way I remember it from when they first opened. Well, maybe a little worse for wear. Throughout the performance the sound was poor. With some characters, including the main one, you just couldn't understand. Often times the music was so much louder then the voices you just couldn't hear them. I think we missed hearing about 70% of what was said because of sound levels and the poor quality. If this attraction is something that Disney plans to keep going, it really needs some work.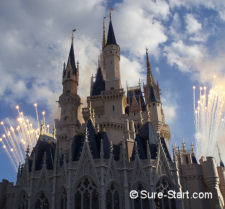 Taking a seven-year-old means, of course, that we spent most of our time at Fantasyland. The carousel is beautiful, and the Peter Pan Ride (formerly Mr. toad's Wild Ride, I do believe) is a good example of Disney updating an attraction. But most of the other rides, and the overall experience, was a bit disappointing. Fun… But we left with the feeling that it should've been better. Of course, Disney has the handicap of having to walk a fine line. How do you update… without disappointing kids and parents who are expecting to get there and ride their favorite rides with them being just the same as they have always been?
Don't get me wrong, though. Disney World's Magic Kingdom is the granddaddy of all the other theme parks. The Disney magic is still there – and visitors to Orlando theme parks should definitely make the trip. It's a special place, though maybe not as spectacular as some of the newer theme parks in town.
Though we did not get there, we did see construction work over toward Tomorrowland, so perhaps some updates and newness are in progress. One ride that we did experience, that's exactly the same as it was many years ago – and is still pretty amazing, was the Haunted Mansion. That attraction has certainly held up over time.
So Hot or Not? I'd have to go with Warm. Familiar. Nice. Fun… but left a wanting for something more.