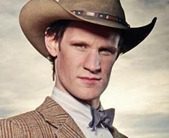 Doctor Who fans – the trailer for next season's Doctor Who was shown today at the Doctor Who convention at The Millennium Centre in Cardiff, England.
We can see in the video that Red, err, Amelia Pond, played by the incredible Karen Gillan, is back (though we know a new companion is on the way). So is her husband, Rory… and so is the Stetson. After all, Stetson's are cool!
It also looks like they are back in the US, in the old West, or at least in 'old West' like times.
The seventh season of the re-launched Doctor Who series is set to premiere this fall. During 2013, Dr. who fans will celebrate the 50th anniversary of the series, which began in 1963. Doctor Who is the longest running science fiction show in history.
A video of the trailer taken at the convention is below:
httpvh://youtu.be/Mrb20e841-c