Procter & Gamble Company (P&G) issued a voluntary recall of certain packages of Iams ProActive Health Smart Puppy dry dog food today. According to a statement released by P&G, the product was distributed to stores in 16 eastern US states : Alabama, Connecticut, Delaware, Florida, Georgia, Louisiana, Maryland, Maine, Mississippi, North Carolina, New Hampshire, New Jersey, New York, Pennsylvania, South Carolina, and Virginia.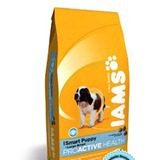 P&G said that the dry puppy food is being recalled as a precaution because it contains a higher than acceptable amount of Aflatoxin.
Aflatoxin is a naturally occurring byproduct of mold. According to the National Institutes of Health (NIH), Aflatoxin is known as a cause of cancer in animals, however the FDA allows a certain level of aflatoxin in foods such as nuts, seeds and legumes, because it is considered unavoidable. They say that small amounts of aflatoxin do not pose a significant risk over time. The FDA also says that consumers can reduce the amount of aflatoxin they consume by discarding any nuts that look moldy discolored or  shriveled.
P&G stated in their release that there have been no health effects reported due to consumption the recalled product. However, they do advise that "pets which have consumed this product and exhibit symptoms of illness including sluggishness or lethargy combined with a reluctance to eat, vomiting, yellowish tint to the eyes or gums, or diarrhea should be seen by a veterinarian."
The specific products being recalled are the Iams ProActive Health Smart Puppy dry dog food with 'Use By' or 'Expiration Dates' of February 5 or February 6, 2013. These include the 7 lb bag with the code date: 12784177I6, UPC code: 1901402305; the 8 lb bag with the code dates: 12794177D2 and 12794177D3, UPC code: 1901410208; and the 17.5 lb bag with the code dates: 12794177K1 and 12794177K2, UPC code 1901401848.
The company is asking consumers with questions or refund requests to call 866-908-1569 or visit  www.iams.com.
---
Have A Question? Ask Jessica!