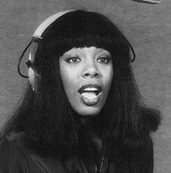 Disco great Donna Summer died at her island home in Key West, Florida, today. She was 63 years old. (important update/correction below)
According to reports, her death was a surprise to friends and family. Though the singer had been diagnosed with lung cancer about 10 months ago, she kept it a secret. Only her husband and children knew the truth, sources told Entertainment Tonight. ET is also reporting the Donna Summer will be laid to rest in Nashville, Tennessee, in a ceremony that will be held on Monday.
Like Whitney Houston, who died on February 12 of this year, Summer got her start by singing at her church. She was just 10 years old when a vocalist scheduled to sing at the church failed to show up. Her priest, apparently knowing that she loved to sing, asked her to fill in. He thought it would be an "amusing spectacle" to have the small framed 10 year old sing, according to a write up of the story on Wikipedia. Instead, she brought the house down. Recalling the event, Summer said "I started crying, everybody else started crying. It was quite an amazing moment in my life and at some point after I heard my voice came out I felt like God was saying to me 'Donna, you're going to be very, very famous' and I knew from that day on that I would be famous."
During her career, Summer had 11 albums go Gold. She received 5 Grammy awards, had a top 40 hit every year from 1976 to 1984, and has been named the eighth most successful female recording artist in history by Billboard Magazine.
Some of her most memorable songs include "Love to love you baby," "She works hard for the money," "On the Radio," "Bad Girls," and "MacArthur Park."
Here's a YouTube video of her 1977 hit, "I Feel Love."
http://youtu.be/a5ysPEgEU6c
–important update–
There were several inaccuracies reported in the immediate aftermath of Summer's death, including the location in which she died. Please see our updated story.