Earlier this week, Sony and AT&T launched a unique take on tablet design.
The Sony Tablet P is a dual screen, clam shell, tablet, and appears to be inspired by the design of the Nintendo DS gaming console. In fact, it is PlayStation Certified and will provide users with access to the full line of Sony Network Entertainment services
The tablet, which has two 5.5-inch screens, folds up to slightly larger than 3 x 7 inches. Small enough to fit into a purse or large pocket. Open, it's a bit more than 6 x 7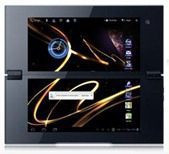 inches. So overall, when open and both screens are in use, the screen is smaller than a 7 inch tablet.
The tablet can display different items on each screen, or combine to act has if it were one display – albeit with a dividing line visible between the two (see photo). It features a 1 GHz processor, 1 GB of RAM, a 5 megapixel camera, and 4 GB of storage. It supports Wi-Fi and 4G HSPA+.
The price of the folding tablet is rather steep, $399.99 with a two year contract from AT&T, a contract with a minimum of $35/month. Without a data contract, the price is $550.99.