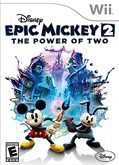 Before there was Mickey Mouse, there was Oswald the Lucky Rabbit, a now mostly forgotten cartoon character created by Walt Disney and Ub Iwerks that starred in popular cartoon shorts of the 1920s and '30s.
Almost a century after the character's first introduction, Oswald returned to the spotlight in Disney Interactive Studios' 2010 game Epic Mickey as the ruler of the Wasteland, a Disneyland-like world that Oswald created for forgotten cartoon characters like himself to call home.
Epic Mickey 2 ups the ante by making both Mickey and Oswald playable characters, giving the sequel a host of new gameplay mechanics. Playing as Mickey once again allows gamers to use his trusty magical paintbrush, whereas Oswald brings a new element to the table – a remote control that allows him to channel electricity. Players will have to rely on both characters' bag of tricks to bring peace back to the Wasteland.
Along with the new gameplay elements, two new areas will also be introduced, as well as multiple new characters to interact with. Players will be able to explore new areas the Floatyard and Fort Wasteland for the first time and interact with Donald Duck,  Goofy, and other famous Disney characters that span the history of the company.
Disney Interactive Studios promises that Epic Mickey 2 will "feel like a Disney film by filling the world with classic and bygone characters and Theme Park attractions."
Unlike its predecessor, Epic Mickey 2 will not only be available for the Nintendo Wii and Wii U, but for the XBox 360 and Playstation 3 as well. The game will be released on November 18, and is currently available for pre-order from the Disney Store, Amazon, and other retailers.
Here's the trailer that was released at E3 in June. It's gotten over 4 million views on YouTube!
httpvh://youtu.be/hH9Kx06oO_0