Novartis Consumer Health, Inc. announced on Sunday that they are recalling certain packages of Excedrin, Bufferin, NoDoz and Gas-X due to the possible cross-contamination with other drugs and medications.
According to a statement released through the U.S. Food and Drug Administration (FDA), Novartis issued the voluntary recall as a precaution, because the over-the-counter medications may contain stray tablets, capsules, or caplets from other Novartis products. They may also contain broken or chipped tablets.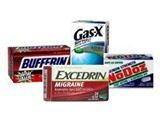 Today the FDA followed up on their statement and said that some of the over-the-counter medications in the recall may also contain powerful prescription painkillers. The prescription painkillers, Percocet, Endocet, Opana and Zydone, are opioid drugs that are made the same plant and sold through Endo Pharmaceuticals. The FDA is not recalling the prescription drugs as they are considered essential medications and the FDA believes the risk of stray pills is low.
The Novartis plant which manufactured these medications has been cited for quality control problems in the past. Novartis stopped production at the plant on December 19.
The recall affects packages of Excedrin and NoDoz with the expiration date of December 20, 2014, and packages of Bufferin and Gas-X Prevention with expiration dates on or before December 20, 2013.
Consumers are being asked by Novartis to cease use of the affected products and to contact them at 1-888-477-2403 between 9 AM and 8 PM Eastern time (Monday through Friday) for information on how to return the products for a full refund. They also list a website for additional information: www.novartisOTC.com.