Samsung has announced the US launch dates for their Samsung Galaxy Tab 2 tablet.
The Galaxy Tab 2 will be available in two sizes. There will be a Kindle Fire sized 7 inch version, which is expected to retail at $250. It will launch on April 22.
An Apple iPad sized 10 inch version, which will cost about $400, will launch May 13.
Most of the talk online about these new tablets revolves around their ability to act as a universal TV remote. The tablet has a built-in IR port, and can be programed using the Peel Smart Remote app to control the TV.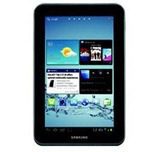 Both sizes of the Galaxy Tab 2 are powered by a 1 GHz dual-core processor and 1 GB of RAM. They come loaded with Android 4.0 (Ice Cream Sandwich). They feature two cameras, the front facing is VGA, the rear camera is 3 megapixel. There's only 8 GB of internal storage, buy support for 32 GB of external storage through a microSD slot. Connectivity wise, the Tab 2s are 3G enabled and support Wi-Fi and Bluetooth.
The Galaxy Tab 2 may take tablet share away from both the Kindle Fire and the Apple iPad. It doesn't have the high screen resolution that the new iPad has become famous for, but it doesn't have as hefty a price tag either. The Kindle Fire is priced less, but the 7 inch Tab 2 is not limited only to Amazon apps, it has double the RAM, cameras, and the IR port mentioned above.
It will be interesting to see if Samsung can fit into the space in-between the Kindle Fire and the iPad. Will you be getting one? Leave your answer and thoughts in the comments section below.