Clothing retailer Gap could use some brightness in their business – and they are going for it in a straight forward manner. Today they launched their new "Be Bright" marketing campaign.
The company, which announced they would be closing 189 stores last October, is starting their new marketing campaign with a "Be Bright" spring 2012 collection that is, in their words, "rooted in colored denim and khakis."
"Be Bright speaks to what has always been the heart and soul of Gap—casual American style that's relevant for today and rooted in optimism," said Seth Farbman, Gap's Global Chief Marketing Officer. "We've been infusing a new energy and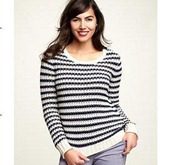 confidence into our product and how we express who we are to our customer. It started with our 1969 jeans and premium black pants and continues this spring with our colored denim and khakis."
The new collection and marketing campaign will feature a  first-of-its-kind digital collaboration. Gap will working with popular style and fashion blogs, including Refinery29, WhoWhatWear, FabSugar, Lookbook, Rue and and the music site MOG. Each of these sites will use Gap clothes to style "unique looks from their point of view." Each blog's styles will be available on their sites, with links to purchase the clothing direct from Gap. The new program is called Styld.by.
"Styld.by is an evolutionary way to take the idea of a traditional catalog and deliver it in a way that encourages people to engage with it in a place where they're already spending their time, like fashion blogs and music sites. By asking our partners to curate our favorite pieces in a way that's relevant to them, we're giving consumers more than just our point of view," said Farbman.
The "Be Bright" collection includes items for woman, men, and children.