General Motors (GM) is putting a hold on production of the heavily government-subsidized Chevrolet Volt. For now, production will be halted for five weeks, starting on March 19. 1300 of the folks that have been making the Volt will be laid off.
The Volt has been on the market since its launch on November 30, 2010. "I have a sense this is going to be a game changer," said GM CEO Dan Akerson at the time.
The Chevy Volt receiving the highest score in Consumer Reports' 2011 owner satisfaction survey. Consumer Reports found that 93% of Volt owners would purchase the car again.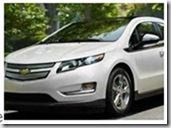 But despite that high score, less than 10,000 have been sold nationwide.
What's to blame for the lack of sales? Well, first off, the price tag – $40,000. Also that the car was made for the government as much as for consumers. It has been highly touted by President Obama, and according to the Mackinac Center for Public Policy, each Volt has as much as $250,000 in subsidies and tax credits behind it. That amount does not factor in the fact that the US government owns about 26% of GM.
The Volt has recently had issues in crash tests with batteries catching on fire a week or more after the actual test crash. GM said in January that they had fixed the issue.
The Volt does remain available at Chevy dealerships and at this point, it does appear that GM plans on continuing production. According to GM, they will resume production on April 23, 2011.