Harry Morgan, who played the indomitable, grumpy, wise, and wonderful Colonel Sherman T.Potter in the hit series M*A*S*H, died at his Brentwood, California, home on Wednesday. He was 96 years old. According to his son, Morgan had recently been treated for pneumonia.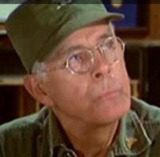 Born in 1915 in Michigan, his birth name was Harry Bratsberg. His debut on the silver screen was in To The Shores Of Tripoli in 1942, where he used the name Henry Morgan. Later he became known as Henry 'Harry' Morgan, and eventually, Harry Morgan.
Before he become Colonel Potter in M*A*S*H, Morgan had roles in over 50 films. He played Detective Bill Gannon on dragnet, and Amos Coogan in Hec Ramsey. He even appeared on M*A*S*H as Major General Bartford Hamilton Steele in 1974, prior to coming back the very next season as Colonel Potter. He stayed with the show until its finale on February 28, 1983, which became the most watched TV episode in history at that time. M*A*S*H ran for 11 seasons in all.
---
Have A Question? Ask Jessica!