It's official – the highly anticipated Apple iPhone 4S is now available in stores. However, if pre-order sales are any indication, the phone may sale out very quickly. Reports of lines forming in front of stores began coming in late Thursday evening.
The iPhone 4S will be sold by Apple, Sprint, AT&T, and Verizon stores… and will also be available through other retailers, including Walmart, Target, Sam's Club, Radio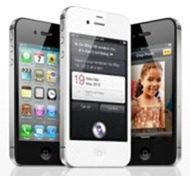 Shack, and Best Buy. However, not all stores will be stocked at the same levels.
Despite critics and consumers reporting disappointment that the new iPhone wasn't an iPhone "5", pre-order sales have gone through the ceiling. Within 24 hours of the iPhone 4S becoming available for pre-ordering, more than 1 million were ordered. That beat the previous record, held by the iPhone 4, which sold approximately 600,000 the first day it became available for ordering.
The price of the iPhone 4S will be $199 for a 16GB version, $299 for a 32GB version, and $399 for 64GB version, with the purchase of a carrier contract.
Apple is also making unlocked (no carrier contract) versions of the iPhone 4S available. The cost will be $649 for the 16GB version, $749 for the 32GB version, and $849 for 64GB version. An unlocked iPhone 4S will work with a micro-SIM card on GSM carriers such as AT&T in the US, as well as GSM networks in other countries.