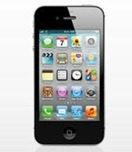 The Apple iPhone 4S will soon be available for purchase with a prepaid cell phone plan.
Cricket Wireless announced today the smartphone will be available on its prepaid network starting June 22. Cricket is the first prepaid carrier to offer the iPhone 4S. The phone will be offered along with Cricket's $55, all-inclusive, unlimited talk, text and data plan.
While Cricket promotes their all-inclusive plan as unlimited, there is a bit of a catch. Data is subject to the carrier's fair usage policy on that plan, which is currently 2.3 GB per month. After that threshold  is reached, users can still connect to the Internet, but the connection speed will be reduced.
As there's no ongoing contract for service, shoppers will have to pay full price for the phone up front. On contract with the major carriers, the iPhone 4S with 16 GB of storage can be purchased for $199. With Cricket's prepaid plan, the phone will run $499. Cricket is also offering an 8 GB iPhone 4 for $399.
There is some potential that the price of the iPhone 4S will be lowered when the iPhone 5 comes out. A number of rumors are out there that suggest Apple may launch the iPhone 5 on June 11. It's all speculation at this point though. But if the June 11 iPhone 5 launch prediction comes true, and Apple lowers the price on the iPhone 4S, maybe the up front price on Cricket's iPhone 4S will drop before it's June 22 launch as well.