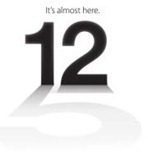 Apple sent out the invitations for a September 12 event today. Will this finally be our introduction to the long anticipated iPhone 5?
Well, take a look at the picture of the invitation. Notice the shadow. The obvious number is the date, "12." But that number "12" casts a shadow in the shape of a "5."
If history is any indication, and Apple does seem to love their traditions, pre-orders for the iPhone 5 will begin either Friday, September 14 or, more likely we think, Saturday, Sept 15th. Apple's last big iPhone launch was for the iPhone 4S, and that launch was on a Tuesday. Apple, AT&T, Verizon, and Sprint began taking orders 3 days later, a Friday.
September 12 is next Wednesday. So there's a good chance Apple and the carriers that will be offering the iPhone 5 will begin taking pre-orders either two days after the announcement (Friday) or three days (Saturday).
As for when the those iPhone 5 pre-orders will be delivered and the phones will appear in stores? Were putting our bets on September 21.
Apple launched the iPhone 4S 8 days after the intro. If they stick with the 8 day intro-to-launch time frame, the iPhone 5 launch would be on Thursday, September 20. However, there were some early rumors which pegged the intro date exactly. That same crop of rumors suggested a Sept 21 release date, and since those rumors proved to be accurate for the intro date, we'll stick with them for a release date prediction too.
When do you think iPhone 5 pre-orders will begin? What about the release date? And when will the lines start forming in front of Apple stores? Leave your predictions below!