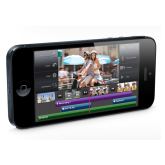 We are just hours away from the opening of preorders for Apple's iPhone 5.
AT&T is running a countdown clock on their home page. Their whole home page tonight  is just the clock and a statement saying "Excited? So are we! We're counting down the minutes to the big event." Verizon and Sprint have their regular home pages up, but with big iPhone 5 ads on them.
The process of gearing up for iPhone 5 preorders has begun, preorder taking to follow soon.
The three big carriers all have the same opening time for preorders – 3:01am Eastern Time this morning (Sept 14).  We have seen reports that say Verizon will actually begin taking preorders at 3:00am, but we have been unable to confirm them.
Word is that Apple will also be accepting preorders through their site. At publication time, Apple has a note on their Apple store which says "We are busy updating the Apple Store for you and will be back soon."
It is expected that there will be quite a preorder rush. When the iPhone 4S preordering system went online last year, the preorder inventory was sold out within 24 hours.
This first batch of preordered iPhone 5's will be scheduled for delivery to US shoppers on the phone's official launch day, Sept. 21. On that same day, the iPhone 5 will become available at Apple stores and at the carriers' retail locations. Long lines are expected to form early. Apple's retail outlets will open at 8am (local time) on Sept 21.
The price of the iPhone 5 will be the same across all three carriers: $199 for a 16GB model, $299 for a 32GB version, and $399 for a 84GB version, priced with a 2 year carrier contract.
As for the plans being offered by Sprint, AT&T, and Verizon?
Sprint will require activation on one of their Sprint Everything Data plans, which start at $79.99/month. The plans include  Truly Unlimited data, text, and calling to any mobile, according to a statement from the company.
At AT&T, iPhone 5 qualifying plans start at $59.99/month (450 minutes talk, 300MB of Data). AT&T made a splash earlier this week when they confirmed they would allow existing users on AT&T unlimited plans to keep their unlimited plans when they buy an iPhone 5.
Verizon plans that can be purchased with the iPhone 5 start at $80.00/month (unlimited talk, text, and 300MB data).  Existing Verizon customers with unlimited plans can keep them… but would have to pay full price for the iPhone 5 ($650 for the 16GB version).
Are you staying up late… or setting your clock to get up early… to preorder an iPhone 5?
Which carrier will be your first choice, and why? Let us know in the comments section below!