A growing number of Microsoft stores are appearing near Apple stores, an apparent bid to steal some traffic away from the largest tech company in the world.
A story in the New York Times today says that Microsoft is not only building more of their stores within spitting distance to Apple stores, but they are mimicking the look and feel of Apple stores. There's the big glass front wall, blocky wood furniture, and, like at Apple stores, products put on display in a manner similar to a priceless piece of art.
Brooke Crothers, over at cNet, says the trend is a good one: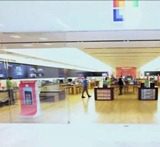 "That's helpful for consumers interested in exploring both rival camps. The Apple Store is a known quantity. The Microsoft Store isn't, for many people. That's too bad, because a Microsoft store offers a much better snapshot of cutting-edge Windows computers and devices than, let's say, Best Buy."
Crothers goes on to detail his experience on a visit to a Windows store, saying that the sales staff was savvy and helpful. After the staff demo'ed a preview of Windows 8, Crothers' writes "it made me rethink the potential of a Windows 8-based tablet. That's what Microsoft needs to get consumers to do if it wants to win over more of them."
Apple's business plan is certainly one to copy. At the end of last summer, they surpassed Exxon as the largest company in the world, based on market capitalization. But Windows does have a fundamentally different product, focuses on software, rather than having it's own hardware product. But perhaps having a wider offering of hardware, all tied together under the Windows 8 operating system, will give Windows stores an advantage.
Time will tell.