This time, Target managed to launch a new designer collection and it not be a marketing disaster.
The Jason Wu For Target collection launched this morning at select Target stores and on Target.com. The collection is available for a limited only, from today until March 6, 2012.
Jason Wu For Target features Wu's signature style… casually elegant, colorful and flirty with clean lines. The collection has the motto "mischief is in the details."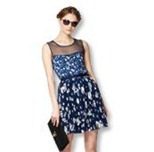 The 29 year old designer began his career designing doll clothing. He came to fame as a fashion designer after designing several dresses for First Lady Michelle Obama, including one she wore at President Obama's inauguration balls.
This is Target's second foray into a limited time designer collection. Their first was the infamous Missoni for Target collection. It was launched soon after Target took over the running of Target.com from Amazon. But Target appeared ill-prepared for running their own site. The rush of shoppers to the site crashed it. Some shoppers reported not being able to reach the site at all. Others were able to shop and select items… only to run into problems when they tried to place the order.
Stores were also reported to be chaotic during the Missoni launch, with anxious crowds, long lines, and shoppers fighting over Missoni items.
The experience angered shoppers and gave Target, and Target.com, a black eye.
But the Jason Wu launch appears to be running much smoother, from the shopping side at least. Target.com has remained up and functional. As of early this afternoon, many items are becoming sold out online, but not everything.
At Target stores, some items are reported to be selling out,  but store inventories (which can be viewed online) still include a wide variety of items. While there were some lines reported outside of Targets at opening time this morning, we are not seeing reports of confrontations and chaos like we saw during the Missoni launch.