It appears that shoppers like what they see, at least so far, of Amazon's Kindle Fire. The tablet, still only available for pre-ordering, is selling like gangbusters, according to both leaks and reports from various analysts.
One leak of inventory management data suggested that Amazon may be pre-selling as many as 50,000 Kindle Fires a day. If that number is correct, Amazon may sale 2.5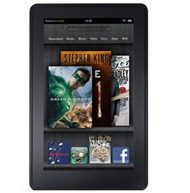 million before the new tablet is even launched on November 15.
Some analysts are predicting that Amazon will sell as many as 5 million before the end of this year, which would most likely make the Kindle Fire the hottest product of the holiday season. While Amazon has not commented on these numbers, they have said that they learned much from their first Kindle launch back in 2007. Within a week, the original Kindle was sold out. This time, they report that they have millions of Kindle Fires in stock and ready for the holiday season.
The Kindle Fire is a tablet with a 7 inch touchscreen and is designed to easily access Amazon content, whether it be instant videos, music downloads, or apps. It functions as an e-reader and also includes a web browser. It is available exclusively through Amazon for $199.
---
Have A Question? Ask Jessica!