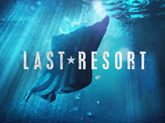 The "extremely cunning" Secretary of Defense, William Curry, makes his way down to Sainte Marina in "Skeleton Crew," the latest episode of political action thriller Last Resort.
Curry arrives on the island with White House advisor Amanda Straugh and Grace's father, Admiral Shepard, in tow.
Captain Marcus warned Sam early on not to show emotion at the meeting, as Curry has a way of pinpointing emotional weakness and using it to his advantage. Marcus should have taken his own advice.
As soon as Curry mentions Marcus' deceased son, Marcus flips out and grabs the Secretary of Defense by the collar.
"You want me dead? You want to silence me? You want to kill my crew?" asks Marcus, dragging Curry to his feet. "You had your shot…you missed. Look closely. I am not a politician. If you say my son's name again, I will crush the jelly from your eyes."
And I believed him. Marcus is a man at his limit. Curry shows no signs of wanting to negotiate; he merely delivers terms for the crew of the Colorado to be arrested under.
Since the first episode, Marcus has walked the thin line between a strategic leader, and a suicidal one. Marcus is a man who has lost everything – his wife and son are dead, and the U.S. Government wishes he was dead with them. With that in mind, is Marcus really a man standing for truth when no one else will, or is he simply a man with nothing left to lose, waiting for his martyrdom?
As much as his crew may question him, Marcus' conversation with Shepard helps solidify the kind of man Marcus is – he stands for his crew. He's not interested in becoming a symbol or a martyr – like everyone else, he just wants to go home.
This is also a big episode for Grace, as she's given command of the Colorado while Marcus and Sam negotiate with Curry. Grace has the hard job of getting a sonar array repaired before the U.S. discovers the weak link in their defense.
Grace finds resistance every step of the way from COB, whom refuses to recognize Grace as a commanding officer.
Navy SEAL James volunteers to scuba dive for the mission, but the noise he makes while making the repairs causes other subs to pinpoint the Colorado's location. Grace makes the hard decision for the sub to dive, leaving James to fend for himself in the deep blue sea.
The ending was a surprise, with  Admiral Shepard taking a stand and COB finally recognizing Grace as an officer.
"Skeleton Crew" is a tight, suspenseful episode. The focus on political intrigue and underwater action with little to no on-island romantics brought tensions on Sainte Marina to new heights.
Last Resort airs Thursday nights at 8/7c. What did you think of this week's episode?