LegoLand is preparing to open its second US theme park on Saturday, October 15th. LegoLand Florida will feature approximately 24 rides, some designed as gentle rides for small children, others, of a more thrilling nature, geared toward big kids and brave adults.
LegoLand Florida is located in Winter Haven, Florida, and has been built on top of what used to be the world famous Cypress Gardens, considered one of Florida's first tourist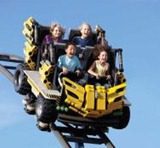 attraction theme parks. LegoLand Florida has announced that the historic Cypress Gardens botanical garden will be preserved within the new park.
The opening of the park comes with some controversy. The park's rides will not be inspected by the state of Florida, as is required with smaller parks and traveling fairs. As long as LegoLand Florida maintains a minimum of 1000 employees, it qualifies, along with three other amusement park owners – Disney, Universal, and SeaWorld – as being large enough to conduct their own inspections. According to the Orlando Sentinel, they will be required to have full-time, in-house, safety inspectors and file annual affidavits certifying that safety inspections have been conducted. Legoland's director of maintenance, Jim Miller, told the Sentinel "I think we have more expertise. We surpass what the state is asking for as far as inspections."
LegoLand Florida will be open from 10am to 5pm each day starting October 15th. Starting in November, they will continue to be open from 10am to 5pm each day except for Tuesdays and Wednesdays, when they will be closed. They will continue to closed on Tuesdays and Wednesdays, with some exceptions (Thanksgiving week and the week before, and after, Christmas) through mid-March. There are also some extended hours during the holidays.
One-day tickets are currently set at $65 for adults and children over 13, and $55 for children from 3 to 12.