Lenovo, which earlier this month took the title of the second largest PC company (based on number of PC's shipped) away from Dell earlier this month, has launched a new all-in-one PC.
The new desktop PC is called the Lenovo C325, and according Lenovo, the computer is designed to be an affordable, space saving, family oriented, multimedia device.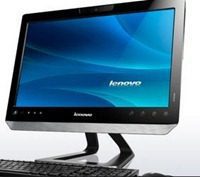 The all-in-one system includes a 20" backlit LED display with optional multitouch screen support. It has AMD Dual Core E450 processors, and can be outfitted with as much as a 1TB HDD storage and 8GB DDR3 memory. It comes loaded with Windows 7 Home Premium.
Some of it's more innovative features include it's ability to dynamically adjust screen brightness based on ambient light levels, and the "Lenovo Eye Distance System", which alerts the user if they get to close to the screen. It also has an audio-in port that will allow the user to plug in an MP3 player and play music without turning the computer on, an integrated TV tuner. For webcam interactivity, the Lenovo C325 includes 'YouCam' software with facial tracking and image effects, and 'Lenovo Camera Fun Zone' with interactive games.
As of this evening, there does appear to be some confusion regarding when the Lenovo C325 will actually be available. In today's announcement, Lenovo stated "The Lenovo C325 All-In-One desktop is available now on www.lenovo.com starting at $699."
However, on their website, they say the Lenovo C325 is "Coming November 2011", and "buy" links go to a different series of Lenovo computers.
——October 25 update——
Lenovo now has the online ordering system in place and the Lenovo C325 is now available through their site.
---
Have A Question? Ask Jessica!