Lenovo has a new 42 inch Android based smart TV that's available for pre-ordering now and is expected to launch later this month.
Unfortunately for US shoppers, it's not available here yet.
Lenovo showed off their line-up of Android TV's at the Consumer Electronics Show (CES) in Las Vegas back in January. Now it's coming to market, but only in China.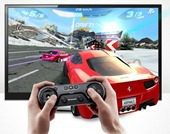 Their 42 inch model is being referred to as a K71. It has Android 4.0 (Ice Cream Sandwich) as an operating system and can can run Android apps. On the 'smart' side of things, the TV has a 1.5 GHz dual core processor, is Wi-Fi enabled, has 3-D capabilities, and includes a gaming remote control.
In addition to the K71, there are 3 other models. Another 42 inch model is being referred to as the K81. There's a 55 inch version called K81, and another 55 inch version called K91, says C114. Other than size though, we have no information on what features those different versions include. The price for the low-end model, converted into US dollars, is just a bit over $1050.
No word from Lenovo on when these TVs might be available in the US. We'll keep an eye on them and let you know here at CP if, and when, they do come this way.