Another Listeria scare has hit the marketplace. This time it's cheese that is being recalled after testing confirmed it contained Listeria monocytogenes.
A lab confirmed that a half pound package of four year aged cheddar cheese, sold under the label Fair Oaks Farms Fine Cheese, contained the now familiar bacterium. It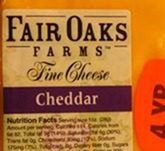 was in September that an outbreak of Listeria occurred due to contaminated cantaloupes. That outbreak appears to have run its course, but in doing so 139 people became sick, and 29 died, after being infected.
Based on this recall, it does not appear that the product has been distributed as widely as the cantaloupes were. The cheese was distributed in parts of Indiana, Northeast Illinois, and one store in Sulphur Springs, Texas.
The cheese was sold in half pound packages and packages may also be included in cheese gift boxes, which are also part of the recall.
The tricky part is that, according to the statement released by the company, the recalled product has no UPC code nor identifying dates on the packaging. The packages are labeled "Fair Oaks Farms Fine Cheese" and the cheese comes in the following varieties: Asiago, Butterkase, Gouda, Aged Gouda, Smoked Gouda, Havarti, Pepper Havarti, Habanero Havarti, Onion Havarti, Veggie Havarti, Havarti Dill, Sweet Swiss, Smoked Sweet Swiss, Emmentaler, Calico, Mozzarella, Farmers, Cheese Curds, Muenster, Provolone, Lacy Swiss, Cheddar, Cheddar Mild, 1 yr. Cheddar, 2 yr. Cheddar, 3 yr. Cheddar, 4 yr. Cheddar, and 5 yr. Cheddar.
The company is asking consumers to return the cheese to its purchase point for a refund. Consumers with questions or concerns are being asked to call the company at 847-884-000 or at 630-673-5200 after 11PM EST, though why they have a second number for calls after 11PM is unclear, as they also stated both lines will be answered 24 hours a day.